Here are a few images of little Mia and her parents, a few days after her birth. This newborn session was done at their place, near Muret.
I loved photographing Mia so asleep and peaceful snuggling in her parents' arms. In the warm of the wood-burner, she also fell asleep on the couch, allowing me to take a few portraits and close-ups of these cute little details: her spiky hair on top of her head, her little feet, her features.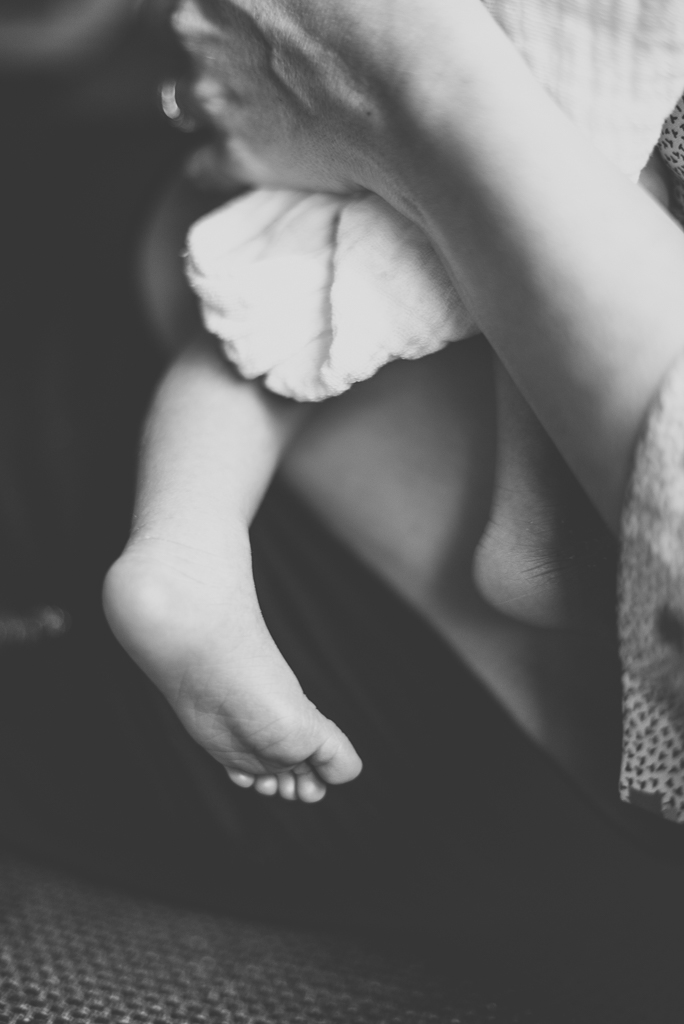 You would like to capture the first moments of your child? Maybe you are wondering what kind of session or pictures would suit you?
To find out which kind of session is right for you, you should ask yourself if you'd prefer a photo-session at the hospital, in a studio or at home. To help you decide, here are briefly the upsides and downsides of each option (according to me!).
At the hospital
By having pictures taken at the hospital or clinic, you'll have the very first moments of your child in the photos. Indeed the photographers will visit you in your room the day of birth or the following one. Apart from that, I don't really see any other upside… The neon artificial light from ceiling is not flattering at all, the environment is impersonal and clinic-like, the mum is often exhausted and not feeling at her best.
In a studio
In a studio, you'll have images that are optimised in terms of light, background and pose. Your child will be placed and posed in an environment specially designed for it, in a room at the right temperature for a newborn. The downside (compared to a session at home) is that you won't be at your own place, in your environment. It might be the first time you go out since you came back from hospital, for you and your baby, which is potentially disturbing for him/her.
At home
The big advantage of a session at home is that you'll be comfortably in your own place. You'll have everything that you need within easy reach, your child will be in his/her own environment and as least disturbed as possible. Also the images will show this environment, your own little home where you bring up your family. They will be much more personal. This will allow your child in the future to go back on these pictures and see the place where he/she grew up since the very first moments. And this is just unique 🙂
It's the session at home that matches best my approach of photography and it's the kind of newborn session I've decided to offer. Usually, I recommend to avoid pictures at the hospital and to chose between a session in studio or a session at home, depending on what suits you best, both in terms of practicality and style of images. If you chose the studio, make sure you pick a photographer very aware of newborn safety and well-being, who uses risk-free poses only.
And if it's a newborn session at home that suits you best, please contact me to talk about it together 🙂
As a photographer near Toulouse, I'll be happy to come to your place!